Product Description
PowerConnect 2848
PowerConnect™ switches not only provide the quality, reliability and capability you expect from Dell™, but also the peace of mind that guarantees hardware for life — a true Lifetime Warranty.
The Dell PowerConnect™ 2848 switch offers incredible value to customers by delivering Web-managed capabilities that allow users to manage the switch through an intuitive Web interface. This 48-port version is scalable from small workgroups to highly dense aggregation solutions at the branch office requiring Gigabit Ethernet. In addition, this 48-port model has combo SFP ports for connecting the switch to other networking equipment located beyond the 100m distance limitations for copper cabling. The 48-port switch also saves power by reducing power consumption up to 73 percent on copper ports with short cables, and has energy efficient capabilities that automatically decrease power on any ports that detect unused or powered down devices saving both energy and money.
The PowerConnect 2848 LAN switch is a high-performance Gigabit Ethernet solution delivering full wire-speed switching across all ports and Web-managed features. This 48-port model also provides up to four combo SFP ports for fiber connectivity to other LAN equipment in your network.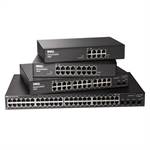 The 2848 ships to you as an unmanaged switch for plug and play deployment, but with a push of a button, you can easily convert the switch from unmanaged to a Web-managed switch with the ability to set IP address, configure virtual LANs (VLANs), set Quality of Service (QoS) priorities, and port mirror for intrusion detection and troubleshooting.
The PowerConnect 2848 offers up to 48 ports of Gigabit Ethernet at unmanaged prices to deliver performance and value in a highly dense 1U rack mountable chassis. The 2848 provides connectivity for up to 48 clients, servers and/or workstations for aggregation in remote office/branch office environments where space and density are important.
The PowerConnect 2848 delivers an all-Gigabit solution for your networking needs. The 2848 delivers wire-speed performance at all three Ethernet speeds — 10 Mbps, 100 Mbps, and 1 Gbps. And with up to 144 Gbps of switch capacity, you can be sure performance is delivered where you need it.